12-ish Theories and 9 Bright Ideas for HR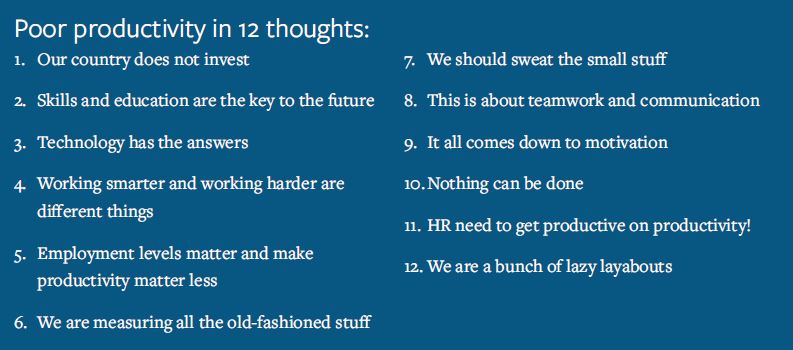 The nation's 'productivity puzzle' is a jigsaw that, with Brexit breaking around us, HR (and HR on behalf of business) may just need to get to grips with and put back together piece-by-piece.
In this short paper, 'The UK Productivity Problem – Difficulties, Differences and Debates' published by HRZone, I have a go at helping you to grasp the big issues about what productivity is, does and means at both micro and macro levels. I don't believe that leadership is about "Don't bring me problems, bring me solutions" but rather "A problem shared….". These are enormous issues, but to open those up can surely be no bad thing.
For the HR profession, I'm labelling people analytics and better people systems as two very direct ways in which we can influence a line of sight between HR strategy and organisational performance. The 12 theories that different kinds of experts tend to expound I think suggest there are viable action points at all levels. I give you nine immediate ways in which you can do that.
As to whether it's mismanagement or mismeasurement, then note this statistical twist that I read from City columnist, Mathew Lynn: "WhatsApp employs people who make zero apparent contribution to the UK economy. The net effect of this business, together with many others taking over what the workplace means to us today when it comes to current productivity measures, is a negative one."
The topic is a hefty one, but I trust that the paper is an easy read. I know that I learned a lot from the research. I hope you do too.
Click here to Download the White Paper
Read more Phase 3 Insights and articles via our Insights Hub
For more information, visit the Our People page by clicking here