It can be a struggle to differentiate between purchase orders (PO) and invoices, especially if you're a new business owner. However, it's important to know the differences, as these two separate documents can be key to successfully managing budgets.
Here we'll discuss what a PO is, how it differs from an invoice, and the benefits of using them.
What is a Purchase Order (PO)?
A purchase order (PO) is an official document which kickstarts the purchasing process. A purchase order is sent by a buyer to a vendor in order to track and manage the purchasing process.
The PO will document the client's expectations in regards to products or services required, including quantities required and price. The buyer sends this purchase order to the seller for approval. Once the seller accepts the document, it becomes legally binding.
The idea of a purchase order is that it outlines the goods and services requested by the buyer. Usually the price on the purchase order will be based on a previously-discussed quote, but if there are any issues regarding the price, vendors may choose to negotiate before accepting the order.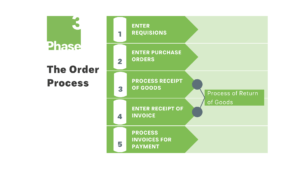 What is an invoice?
In contrast to a PO, which is sent by a buyer to a vendor, an invoice is sent by the vendor to the buyer as an official request for payment for the goods or services that have been provided.
The PO supersedes the invoice. Whereas a purchase order is sent at the start of the transactional process, an invoice is delivered at the end of the transaction, after the vendor has provided their product or services.
An invoice includes the previously-agreed amount that the buyer should pay now that the order has been fulfilled, along with details of ways to pay. If a PO was sent at the beginning of the transaction, then the invoice should also include the original purchase order number for reference.
What is a PO number?
A purchase order number is a unique number found on the purchase order. Most accounting software will automatically generate this number when a new purchase order is created. The PO number should be added to the seller's invoice once the order has been fulfilled, as this shows the accounting department within the purchasing company that this transaction was already budgeted for and approved previously, which helps to speed up payment.
Why are POs used?
Companies use POs to order goods or services from a seller. The company who is purchasing is likely to have already assessed quotes or bids from various sellers, and has settled on the vendor they want to proceed with. This vendor will receive the PO outlining the goods/services required, and the agreed cost. The PO number attributed to the purchase order will be used by both parties throughout the transaction whenever it is referenced, which helps both parties keep track of the order.
Sometimes, the buyer will be offered a discount if they are to place all their orders within a specific period of time. POs are handy in this instance, as the purchasing company may issue a blanket purchase order with all their future orders on it, and then release underlying sub-purchase orders periodically when they're ready to order goods.
How do POs help to manage budgets?
Purchase orders help businesses to keep track of expenses and streamline the accounting process: in short, they help to make your accounting department more efficient.
Purchase orders allow businesses to track inventory and cost: they allow you to keep track of the products and services that vendors are providing and stop money 'escaping' on purchases that get forgotten about. POs also act as records which allow you to do your own auditing of your finances.
Your accounting team will be able to match any invoices that come in with their relevant purchase orders, which gives your accounts payable team more confidence when paying invoices: they will know that the transaction was already previously approved.
Purchase orders allow your business to track payments and incoming orders, reduce the possibility of duplicate orders, and are helpful when it comes to budgeting.
How can your business benefit from purchase order software?
If you would like to incorporate purchase orders into your buying process, the best way to start is by implementing a purchase order software.
Purchase order software such as Sage Intacct is cloud-based software which accelerates purchase requisitions, purchase orders, and approvals. This purchase order system connects with accounts payable, cash management, and inventory, ensuring a smooth integration with your current software.
If you are considering trying out purchase order software and would like some advice on which software is best for your business, Phase 3 can help. Phase 3 are specialists in financial software and can advise you on the best software for your individual requirements. They can also help with financial software implementation, integration, and training, ensuring an efficient transition.
If you would like to discuss this in more detail, please contact us today for a no-obligation chat.